Shopping Cart
Your Cart is Empty
There was an error with PayPal
Click here to try again
Thank you for your business!
You should be receiving an order confirmation from Paypal shortly.
Exit Shopping Cart
Loose Leash Dog Walking - Newlands / Johnsonville, Wellington.

Walks @ Local Streets, Parks, Reserves, & Dog Parks
Dogs On A Loose Leash in Newlands
from
Exciting news! 3/02/2016
Wellington is getting another fully fenced dog park! 
The first one at Cog Park, Evans Bay, although relatively small, has been welcomed by dog owners and this one at
 Ian Galloway Park will be too I'm sure! 
Here's what the Open Space & Parks Manager from WCC has to say..........
 "Work on the fenced dog-exercise area at Ian Galloway Park will be starting next week.
The dog exercise area has been shifted to the east of the park, next to Curtis Street.
The new area is being fully fenced, with three double gates – one next to the car park, the other off Curtis Street and the other on the west side next to the BMX track.
 Please see the below (and attached) landscape plan. 
Many thanks to those of you who have provided input to the final plan.
We know that drainage will be a challenge for us all this winter. If funding is available after the fencing has been completed, we are hoping to try some grass mounds to try to alleviate some of the hollows and wet spots. 
Please bear with us as works progress and we hope you enjoy the new fenced dog exercise area.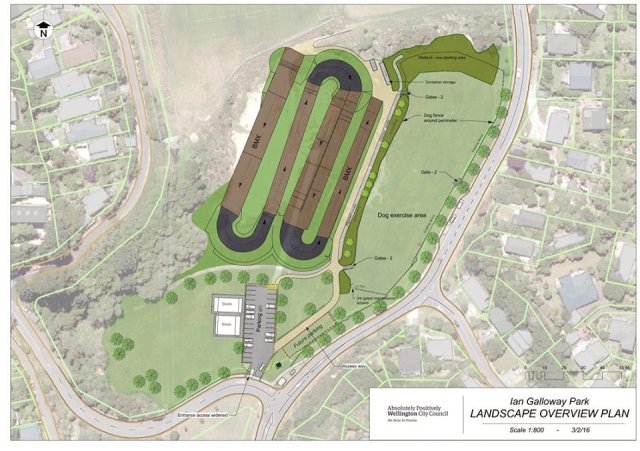 Some interesting history on Ian Galloway Park, named after
Ian Galloway who was a former Director of Parks and Recreation.
The site was the Western Landfill or Wilton Tip as it was known, operated between 1946-1973. This explains the uneven surface and drainage issues.
Out and About in Newlands
 Have you ever tripped on a broken footpath while out walking your dog or dogs...
and thought to yourself, like I have, many a time... "somebody should do something about that ! " 

... well now you can !
Just text Wellington City Council !
Txt Fix-It to 3400
 send the fault details through, with the exact location ie Street & Street # , and WCC will repair it as soon as they can.
 If you supply your contact details, they can get back to you with a reference # , so that you can follow it up later if required.

 This service is free and only takes a moment or two of your time, especially if you have entered the above details into your mobile phone Contacts/Address Book or Drafts/Templates!

 I regularly use this service to report anything from broken glass, missing manhole/inspection covers & drainage grates, to windblown rubbish & recycling bins/bag contents, dumped rubbish, graffitti.
 So if there is something that needs attention, whatever it be, a leaking water main, broken pipe, blocked drain, broken branch, dumped rubbish, or a pothole...

txt away.

 You can also report faults when you get home by;
Phone: 499 4444
website:www.wellington.govt.nz/services/fixit/       Repair Request Form

I saw this article a while back...

Local apps

Tidy Streets
Report broken street lights, graffiti and blocked road drains while you're on the go through applications such as FixMyStreet and NeatStreets.

FixMyStreet can be downloaded for free to your iPhone and lets you choose the address nearest to the incident or fault. You can then fine-tune the location on a map, describe the issue, enter your contact details and - if you like - upload a photo. Once you've confirmed your report via email, it will be emailed to the right local council.
NeatStreets works in much the same way, but can be down loaded to iPhones, Android smartphones and BlackBerrys and if your phone is GPS capable it will automatically give a location for the issue.
 Local apps, Tidy streets, reprinted with kind permission of Claire Rodgers
                        Source: The Dominion Post Tuesday, Febuary 15, 2011
C U Out There,
Penny - Loose Leash Dog Walking Service Newlands Johnsonville
http://www.looseleash.co.nz

7.40pm Sunday night.
Just got back home from walking the dogs...and got soaked (again)
ten minutes from home! Murphy's Law.
Was rather enjoying the quiet, peaceful nighttime walk,
spending one on one time with my dogs... untill the rain hit. Darn. 
 Thank goodness for Dehumidifers, shoes should be dry by the morning.
Had an enjoyable afternoon reading "Flash" by Joyce Stranger,
about a boy and his collie pup set in Scotland. Very moving.
 This book was one of the 5 dog books I managed to get a the recent
Monster Book Fair Johnsonville. Big Paws Up to the Johnsonville Rotary
Club and Life Education Trust.
 Another title I have been dipping into is "The Reform School Handbook
DELINQUENT DOGS by Tony Wilkinson.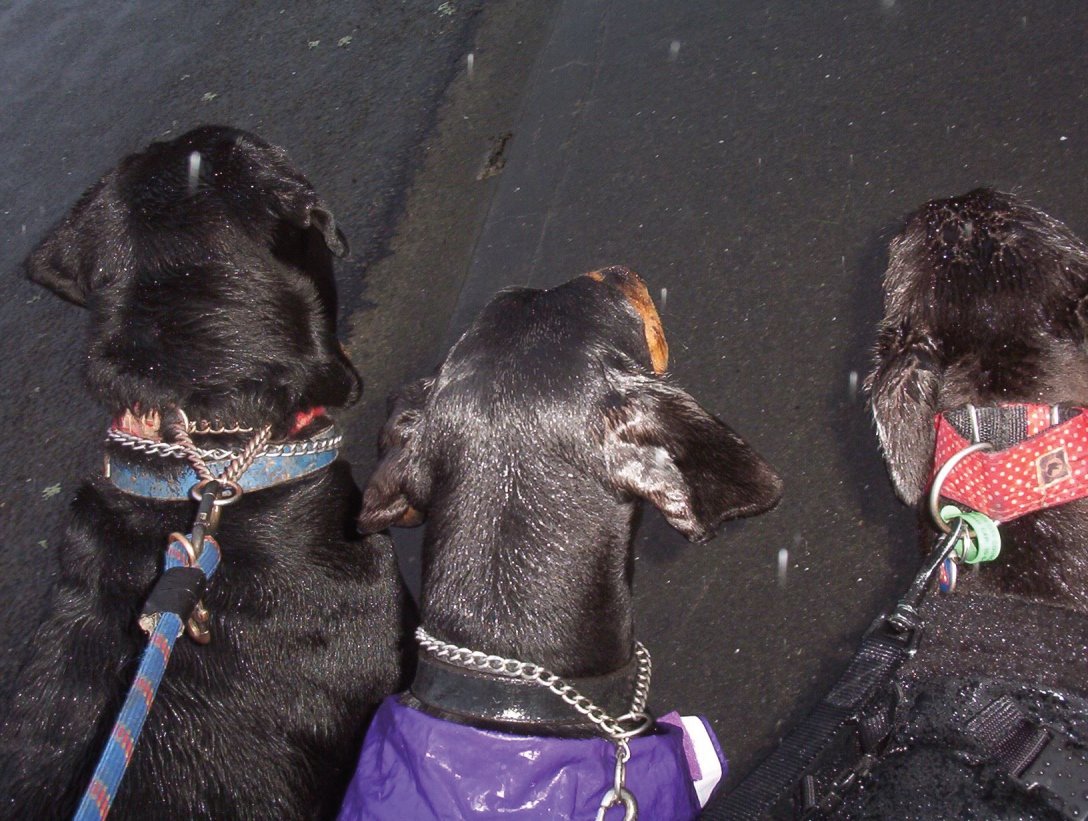 < checkout the photo (rain on the lens)
dog walking in the
rain,last Thursday,
little Miss geyhound cutey in her
fluffy collared Black doggy rain coat
(red pokadot collar)
Mr Doby in his Purple dog rain coat.
(centre)
& LH side "Miss Rain doesn't bother me"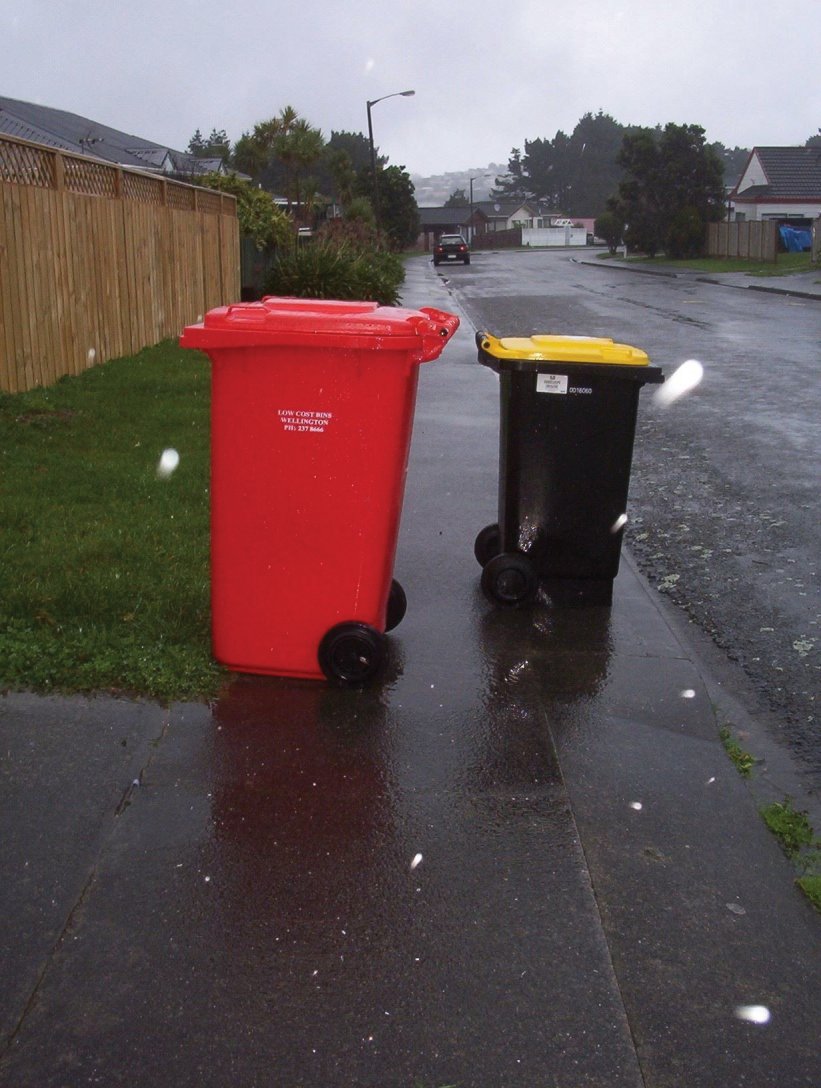 < Pet peeve,
Wheelie bins blocking the footpath
(also last Thursday 21st June)
WCC Recyling Bin out....Thurs?
Also last Thursday I attempted to  take some photos of a family of
5 Pukeko's feeding in the rain, (NZ's Purple Swamp Hen)
but failed. have to try again at a later date. Watch this space.
Penny,
the Dog Walker
Loose Leash Dog Walking
P.S. redevelopment off the old Newlands Park Auto site is going ahead in leaps and bounds. Unfortunately its meant the loss of the plantings by the round about, heres hoping that these can be replaced or even bettered when the work is finished!
The council staff who worked on these planting must be Really Gutted! Big Paws Up Guys!

We, the Dogs that is, were a little worried about the first day of the new kerbside recycling service. We were expecting to find recycling wheelie bins & bags in the middle of the footpath instead of at the curbside. When we are out taking a dog walk we can get one eyed about anything blocking our progress, you know how it is.... things to see, places to go, pee mail to read, dog parks to visit.... important stuff to a dog! Anything at all that gets in our way or impeeds our progress....
 Sometimes my dog walker says "go right" and I mix up my left paws with my right, and I go left.... and my smart arse dog walker laughs and says "no your other right" and has to stop and untangle my lead from around the wheelie bin or even back me up...
 Sometimes I just want to jump over the green bin instead of mucking about going around, but that doesn't always work out to well! see photo >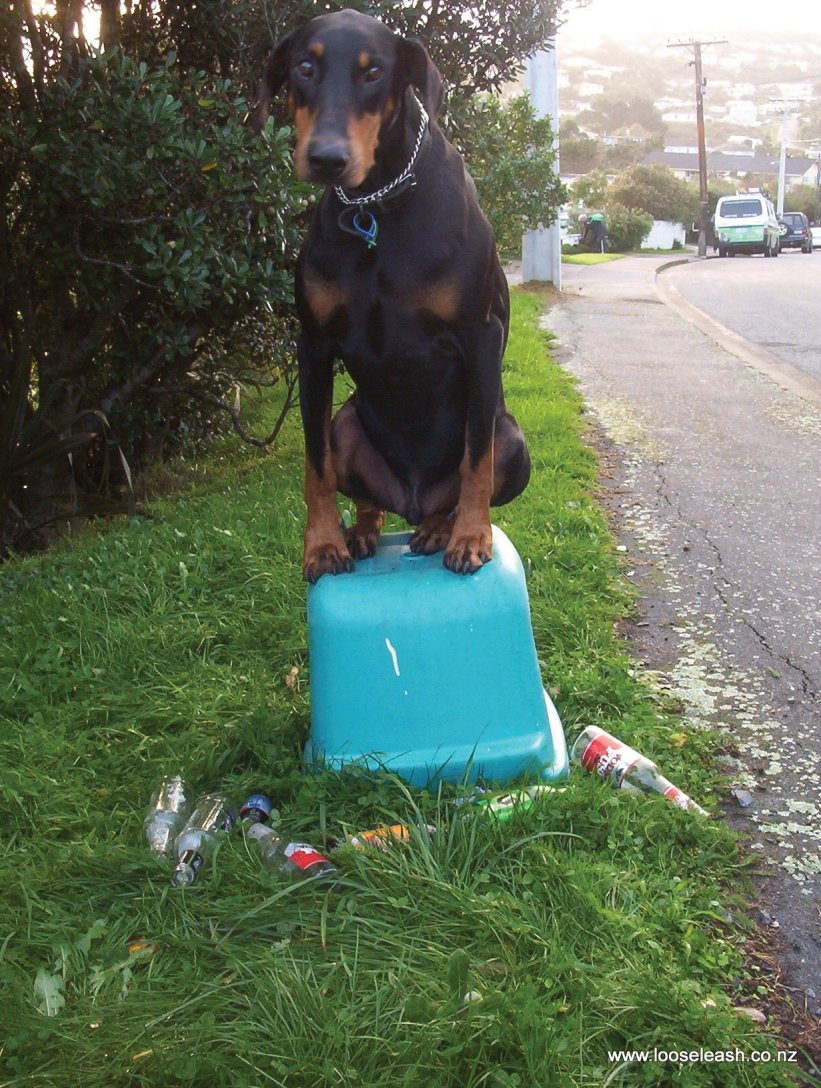 So we dogs were quite relieved not to find very many bins at all blocking the footpath, well done everybody! A BIG Paws Up from us Dogs!
                                                            Signed " the Dog"
also known as O.B.1.
Didn't he do well, for a dog? You should have seen him using the keyboard, he kind of had to type with one toenail as his hairy paws are way to big for the keys!
 Good Dog! Well Done Boy!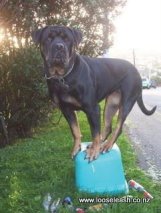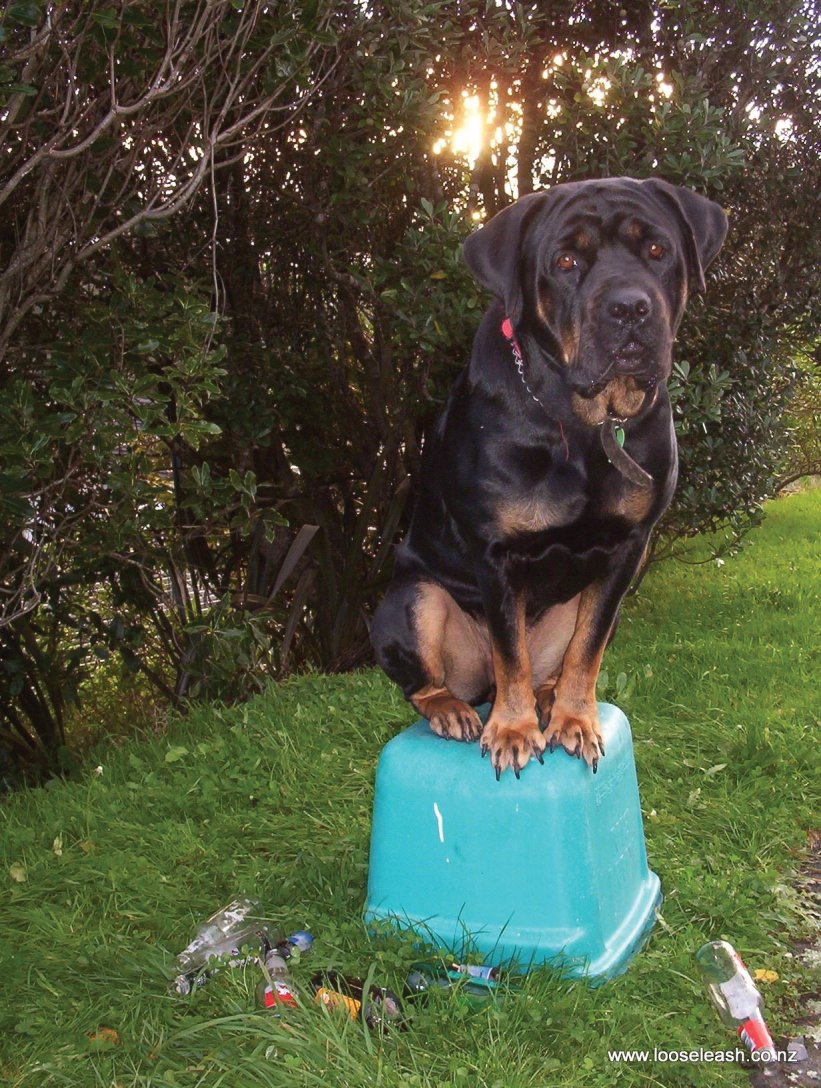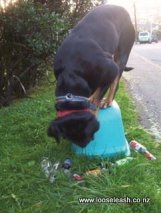 Penny the Dog Walker
 Loose Leash Dog Walking
Had to bath the dog....
  due to a incident with some poop in the park, Churton Park Dog Exercise Area on Halswater Dr actually. Someone failed to scoop their dogs poop, one minute she's sniffing, the next she's dropped her shoulder and rolling! Yuk! No it wasn't funny. Twice in two days!
One of the hazards of dog walking.
 Could have used Cecilia's Pampered Pooch Dog Hair Salon Dog Bath services!
Cecilia and Pampered Pooch have recently relocated from 8 Frank Johnson St, Johnsonville, on the motorway overbridge, to # 64 Ohariu Road, Johnsonville next to the Meekwoods Reserve Dog Park up above Johnsonville Main School.
 Talking of Churton Park...
                        PLANTING DAY

The Churton Park Revegetation Group is having its first Planting Day of the season, Saturday June 11th from 1pm. Tools and gloves are provided, but firm shoes are needed. Meet at the site beside Middleton Road, just north of Wingfield Place. Everyone welcome. More info: John Morrison on 477 1020.
 from Citylife Independent Herald June 1, 2011 What's Up Events - Planting Day
 Have a Great Weekend,
Penny the Dog Walker
Loose Leash Dog Walking Service Newlands Johnsonville
Update:             PLANTING DAY

Enviro Day was held on June 2nd to mark Arbor Day on June 5th, at Seton Nossiter Park (Dog Park) Paparangi / Grenada. Students from Paparangi and Newlands Schools planted native plants and Wellington Mayor Celia Wade-Brown attended.
Go Kids! Well done!.
                          PLANTING DAY

Trelissick Park Group will hold a community planting day at Trelissick Park (Dog Park) in Ngaio on Tuesday, June 21, 9.30-midday. Meet at the Hanover St entrance. for information visit trelissick.park.org.nz

                             from Citylife Independent Herald Wednesday, June 15, 2011 WHAT'S UP EVENTS

 The Newlands Community Centre on Batchelor Street will host the SPCA"S Adopt A Pet initiative on Saturday, May 21st, 9am till 1pm. Come to the centre and find a new member for your family.
 Psst Pass this on to anyone you may know of who may be on the lookout for a new "forever" family pet !
                                 seen in the Citylife Independent                                                                                       Wednesday, May18, 2011
                                                                         p3 WHAT'S UP EVENTS
/