Shopping Cart
Your Cart is Empty
There was an error with PayPal
Click here to try again
Thank you for your business!
You should be receiving an order confirmation from Paypal shortly.
Exit Shopping Cart
Loose Leash Dog Walking - Newlands / Johnsonville, Wellington.

Walks @ Local Streets, Parks, Reserves, & Dog Parks
Dogs On A Loose Leash in Newlands
Newlands Newest Bush Walk.
Lyndfield Lane Park & Reserve.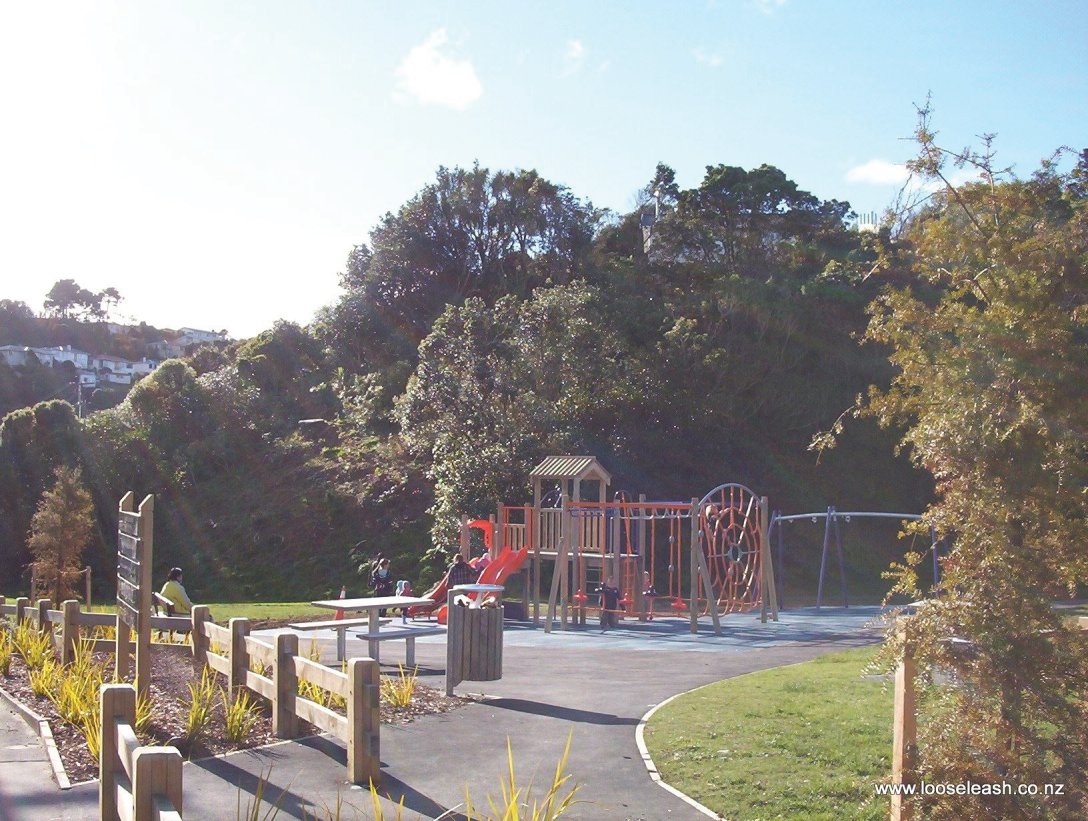 <Lyndfield Lane Park Childrens

Playground Area

The Lyndfield Lane Park and Play Area has been finished, and has proved to be very popular with Newlands residents,especially on recent sunny days, with some traveling to the park by car.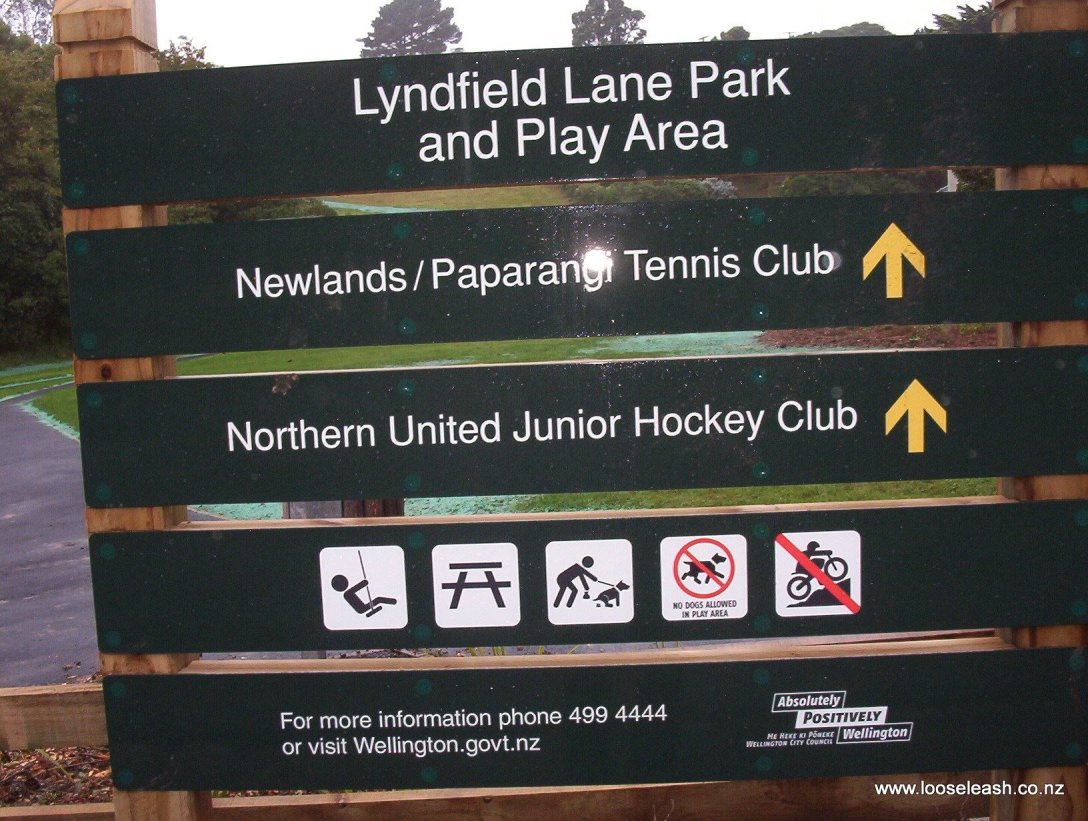 New Park signage>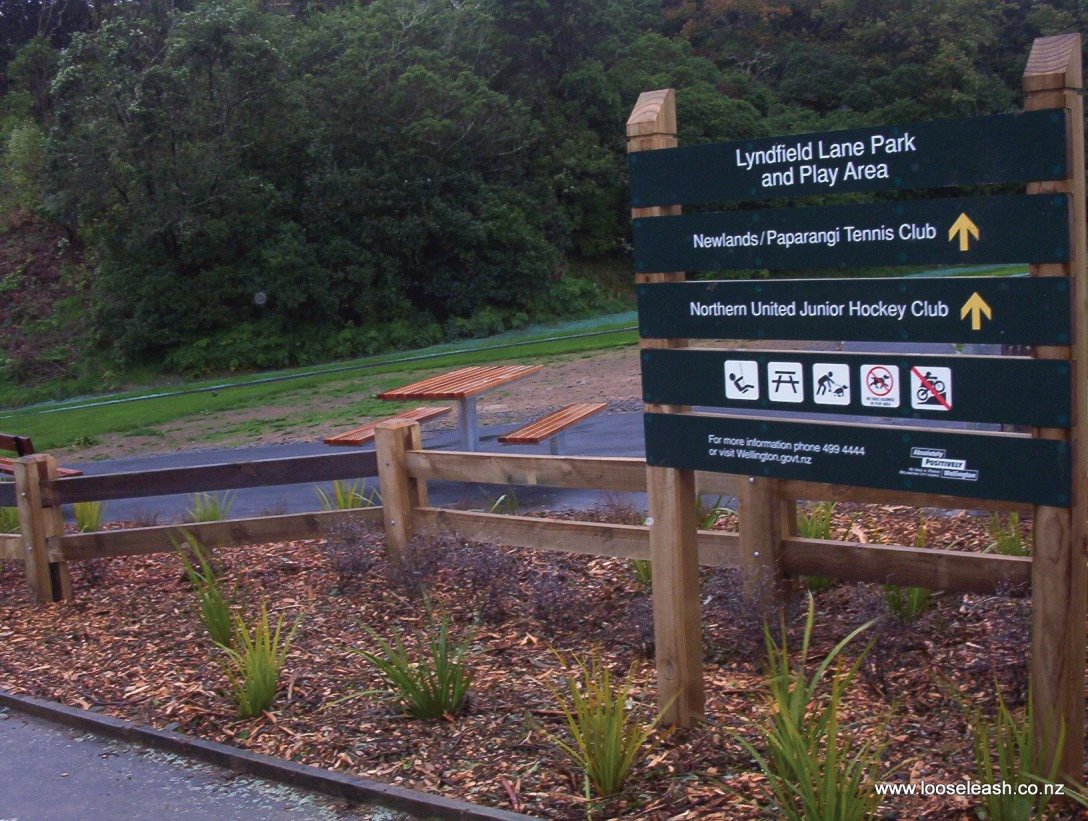 Newlands Newest Bush Walk. (& shortest ! )
A new addition to the Newlands Walkways.

This new Walking Track is accessed from the new asphalt paths by the Play Area on Lyndfield Lane, and heads up the hill towards the Tennis Courts.
  The short bush walk zig-zags up to the ridge line and grassy knoll, along the top and back down through the bush to the  

northern entrance/exit of the Track at the Black Rock Road end of the Tennis Courts.
 There are rather good views to be had from the top, esp. to the south.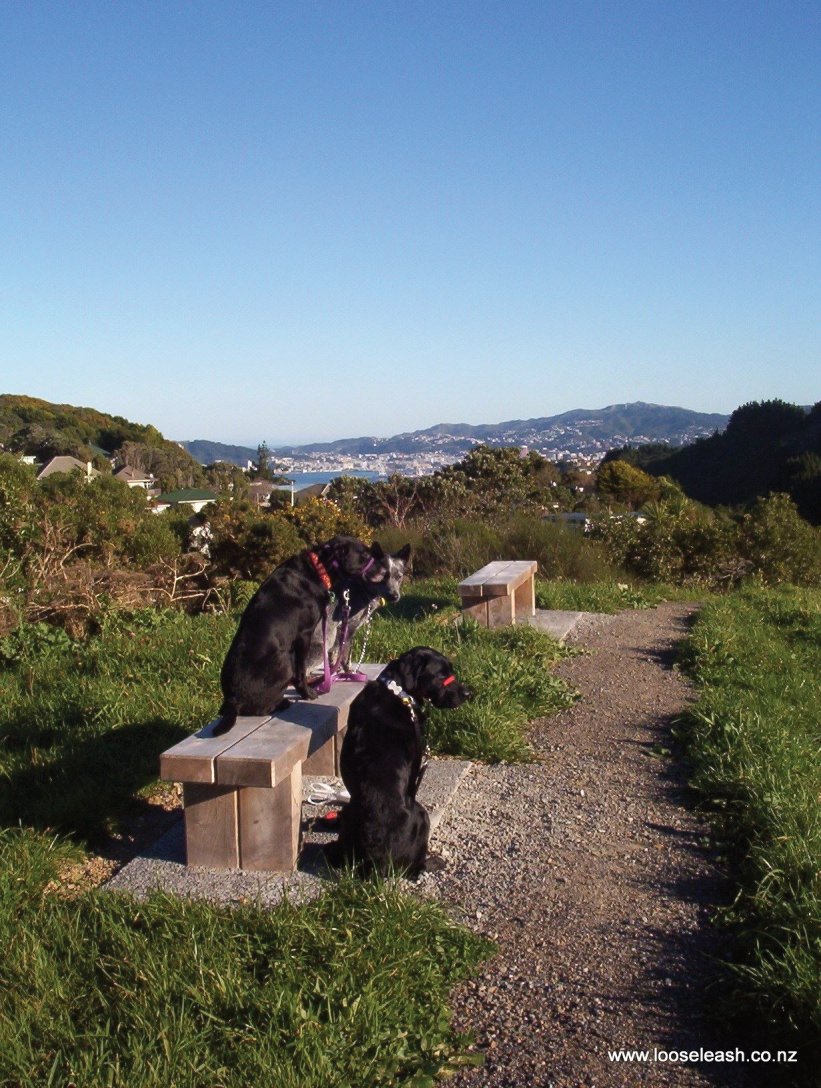 Three keen dogs looking South >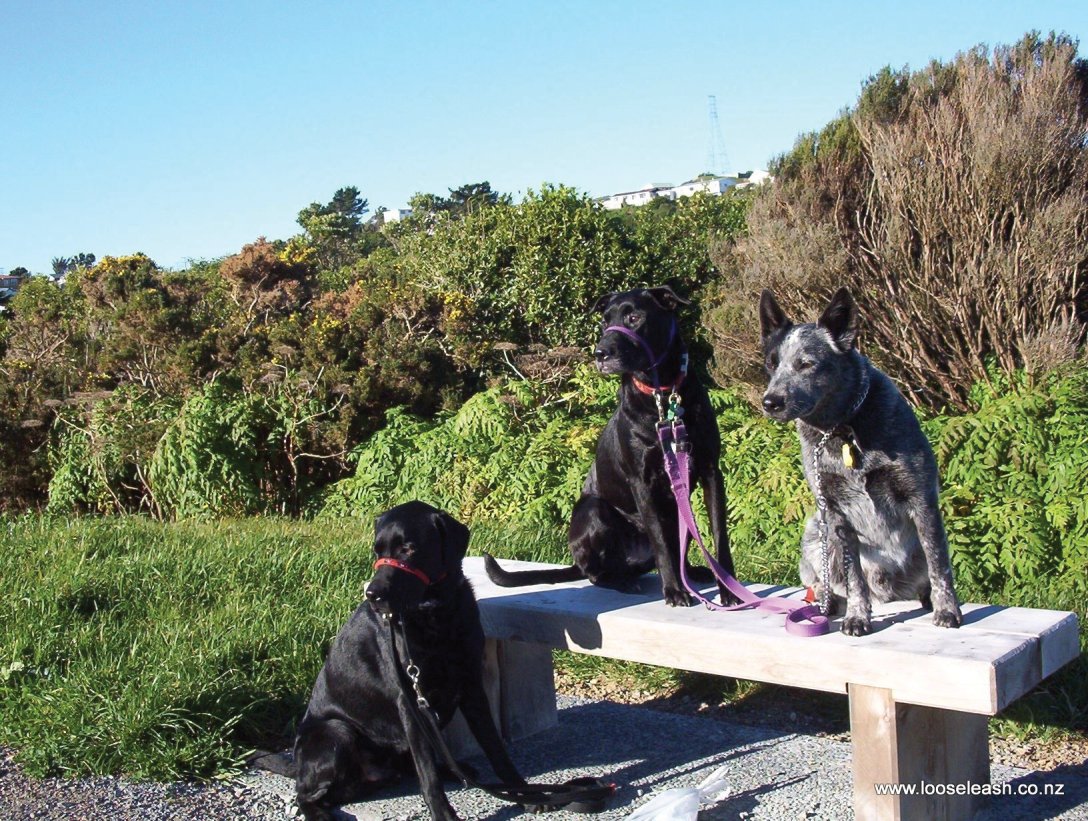 Making good use of the two new bench seats.
<Dogs looking to
the West,over the grassy knoll.

Note: Dogs on Leads / Leashes.

 Remove your dog's poo.
  No dogs in Play Area.
Nearest Off Leash Dog Exercise Area,
 Woof Woof Ruff,
is Spenmoor St Park.
Big Paws Up Thank You to the Wellington City Council and all involved in the Lyndfield Lane Park revamp !

Contacts:
WCC phone: 4994444
The Lynfield Lane Park Orchard: Ken Glassey
find and 'like' on facebook 'Newlands Orchard'
 for updates on Planting Days etc...

Planting Days
Revegetation Group.
Revegetation Project in Wingfeild Reserve, adjacent to
Middleton Road, Glenside/ Churton Park.
...The access track was reformed with the assistance of the
Dept. of Corrections and now offers an all weather track as an alternative to the Middleton Road footpath.
Planting Days are scheduled for Saturdays, commencing at 1pm,
 30th June
 21st July
 11th August
More helpers are always welcome.
For more information please contact John Morrison ph 4771020
From Churton Park Gazette Vol 25  Issue 2 June 2012
  www.churtonpark.org.nz
( drove by in the RAIN on Sat 30th, and was very impressed with the number of planters, planting on the steep slopes,
well done all ! )
Had to bath the dog....
  due to a incident with some poop in the park, Churton Park Dog Exercise Area on Halswater Dr actually. Someone failed to scoop their dogs poop, one minute she's sniffing, the next she's dropped her shoulder and rolling! Yuk! No it wasn't funny. Twice in two days!
One of the hazards of dog walking.
 Could have used Cecilia's Pampered Pooch Dog Hair Salon Dog Bath services!
Cecilia and Pampered Pooch have recently relocated from 8 Frank Johnson St, Johnsonville, on the motorway overbridge, to # 64 Ohariu Road, Johnsonville next to the Meekwoods Reserve Dog Park up above Johnsonville Main School.
 Talking of Churton Park...
                        PLANTING DAY

The Churton Park Revegetation Group is having its first Planting Day of the season, Saturday June 11th from 1pm. Tools and gloves are provided, but firm shoes are needed. Meet at the site beside Middleton Road, just north of Wingfield Place. Everyone welcome. More info: John Morrison on 477 1020.
 from Citylife Independent Herald June 1, 2011 What's Up Events - Planting Day
 Have a Great Weekend,
Penny the Dog Walker
Loose Leash Dog Walking Service Newlands Johnsonville
Update:             PLANTING DAY

Enviro Day was held on June 2nd to mark Arbor Day on June 5th, at Seton Nossiter Park (Dog Park) Paparangi / Grenada. Students from Paparangi and Newlands Schools planted native plants and Wellington Mayor Celia Wade-Brown attended.
Go Kids! Well done!.
                          PLANTING DAY

Trelissick Park Group will hold a community planting day at Trelissick Park (Dog Park) in Ngaio on Tuesday, June 21, 9.30-midday. Meet at the Hanover St entrance. for information visit trelissick.park.org.nz

                             from Citylife Independent Herald Wednesday, June 15, 2011 WHAT'S UP EVENTS

/